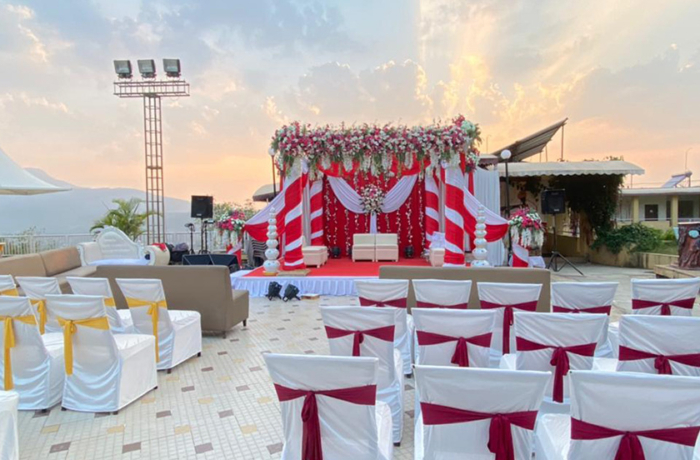 Wildernest- A perfect spot for your destination wedding
Congratulations! He proposed? Or did you? Or was it decided by the families? Whatever it be, YOU ARE GETTING MARRIED!!
Everyone wishes to have a unique and memorable wedding, which friends and relatives should talk about for years to come. Some like it to be grand and pompous, while some prefer a small candid one. However, one thing is certain-a great wedding requires a great destination with delicious food.
Destination weddings are becoming the norm in India. The best part about having a destination wedding is that you can plan all the details from the comfort of your home without worrying about its execution. A great location, great ambience, mouth watering food, comfortable stay are what make a destination perfect for a wedding.
Are you looking for such a perfect destination wedding in Pune? Look no further. We at Wildernest Resort will be more than thrilled to host your nuptials. Wildernest is one of the best resorts in Pune. On our 4.5 acre sprawling campus, you can customise your ceremonies as per your wish. Whether its a close family function or a grand ballroom one, we can cater to all your needs.
At just 35 km from Pune, nestled amidst the mighty Sahyadris, with a view of the Khadakwasla backwaters, it will be nothing short of a fairytale wedding! Set up your party near our infinity swimming pool and groove to your favourite music. Or, have an indoor sangeet at our Multipurpose hall. We also have a well equipped, spacious outdoor kids play area to keep your little ones entertained.
Don't worry about your accommodation, as we offer a wide range of rooms to suit your needs. From luxurious rooms to spacious dormitories, we've got you covered. If you want a 'shadi ka ghar' feel, we have a homely villa designed to give you and your family maximum comfort and relaxation along with privacy.
Our chefs are masters in a wide variety of cuisines such as North Indian, South Indian, Continental, and Chinese. And if you want that authentic Maharashtrian spread for your special day, then our in-house chefs would be more than happy to take you on a delicious culinary journey of Maharashtra. We realise that our guests come from different backgrounds and cultures and we truly respect that. Hence we offer Veg, Non-veg and also Jain food options. We take utmost care to prepare different food in different kitchens.
Away from the hustle and bustle and the din of the city, enjoy the peace and tranquil at Wildernest resort near Khadakwasla. Celebrate your bond of togetherness amidst the natural elements and Mother Nature will bless you herself.
So what are you waiting for? Contact us for further details.