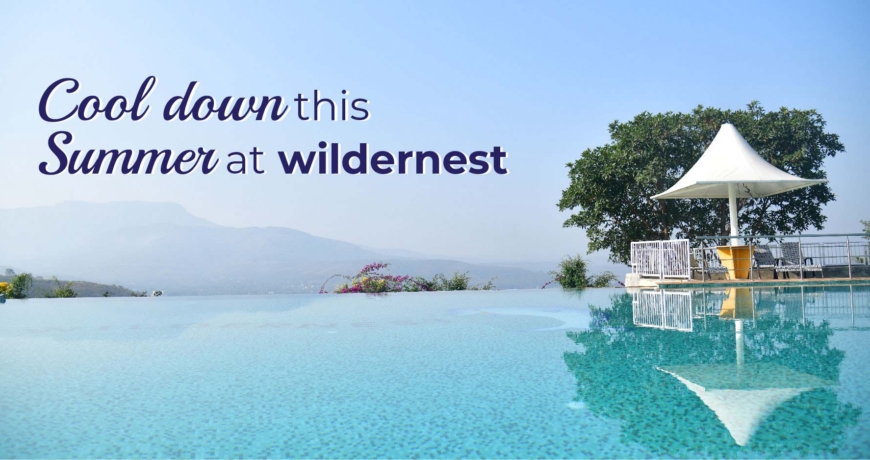 Cool down this summer at Wildernest
Summers can be harsh and can lead you to dehydration, sweating and boredom. All summer you keep thinking of innovative ways to spend your time. You always have to look for places where you can enjoy with your friends, family or colleagues. All of this now has a solution, an answer that is beautiful, peaceful and calm. Wildernest hilltop resort, a nature resort near Pune. Here are a few ways you can cool down at Wildernest.
Being a hilltop resort, Wildernest is surrounded with beautiful mountains and greenery. It has a view of Khadakwasla dam back waters and when sun sets on this back water it is a view to remember. Located 14 kms from exit of Mumbai-Bangalore highway, away from all the city chaos it is a perfect Family resort around Pune to relax and lay back.
Wildernest hilltop resort provides you with most comfortable staying facilities. Variety of luxurious rooms that match your taste and your standard help you take a break from all the hectic schedule and scorching heat. Plan a stay at Wildernest and Experience luxurious accommodation and relaxed sophistication that blends harmoniously.
Who wouldn't want to enjoy a cool breeze while taking a dip into crystal clear infinity swimming pool water? Everyone does. Wildernest hilltop resort has one of the most beautiful infinity pools, this infinity pool will surely help you take away all the stress and tension from your daily life and also all the irritation you have because of sweating in summer.
Summer inevitably means school vacations and everyone being around, playing indoor games together. You can play indoor games at Wildernest family resort. Stay chilled and enjoy games like carrom, playing cards, table tennis, pool, foosball and many more at Wildernest.
There these and many more things you can do at Wildernest hilltop resort this summer. We have activities that people of any and every age group can enjoy. So come enjoy at beautiful nature resort Wildernest at the earliest.