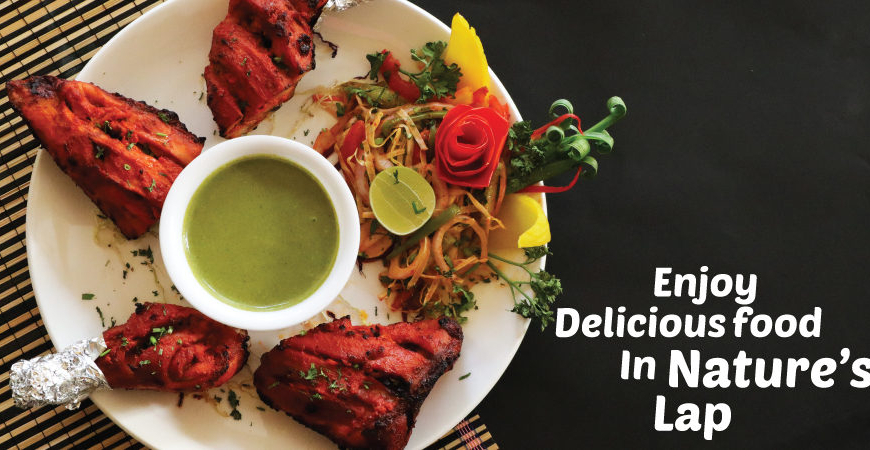 Enjoy Delicious food in Nature's lap
"Love is the food of Life, and Travel is the dessert"
We long for a quick getaway, especially confined to our houses during lockdown.  From attending non-stop office calls, and Zoom meetings, washing utensils and cleaning the house, working from home has become the new norm.  The atmosphere outside begs us to go for a long drive, but we're limited to taking Instagram worthy shots from the bedroom window. In the midst of all this, we are bound to feel worn out.
Given that it is the monsoon season, and the pleasant showers remind us of all the junk food, munching on kanda bhaji and a piping hot meal with friends.  And Pune being a unique amalgamation of hills and rivers, a trek to Sinhagad fort or a quick stop to the resort becomes the perfect weekend plan.
How about a combination of both? After a trek at Sinhagad, stop at Wildernest Hilltop Resort, a resort near Sinhagad.
So, for all the monsoon lovers, waiting to be one with the nature and experience the serenity, head over to Wildernest Hilltop Resort, one of the best resorts in Pune. Just 30 mins away from Sinhagad, the, you can easily unwind atWildernest Hilltop resort.  Rejuvenate after the long tiring trek, in the resort's infinity pool, which is one of Wildernest Resort's remarkable amenities. Or you can unwind with your pals at a game of pool, or carom, or even better, beat them at the game of chess.
Or if you're the one who still loves being outdoors, you can show off your batting and bowling skills at cricket, or cycle through the length and breadth of the 4.5 acres of this hilltop resort.
Multicuisine Restaurant
"Food is the ingredient that binds us together".
Out of the many features of the Wildernest Hilltop Resort is its multicuisine restaurant.  After all those activities, it is evident that we'll feel hungry.  Here at Wildernest Resort, we've taken care of your hunger pangs too!
Be it North Indian, South Indian, Continental, Maharashtrian or Chinese, Wildernest Resort has it all.  Moreover, the restaurant has Jain option as well. From breakfast option to dessert to juice and beverage options, enjoy a sumptuous meal at the Wildernest Resort. With separate kitchens for veg and non-veg, all the hygiene standards are maintained. The restaurant is open from 7.30am to 11pm.
The Resort provides all day dining together with the a-la – carte menu, so that you have ample options to choose from North Indian, South Indian, Continental or Chinese options. The open seating arrangement, overlooking the Khadakwasla dam and Sinhagad Fort for the perfect view, it is a pleasure for the eyes as well as your tummy.
North Indian
Beginning with the delicious Paneer or Chicken Tikka, and dipping your fingers in the mouth-watering Paneer Mirchiwale, Sarson Da Saag, Mutton Rogan Josh or PeshawariChole withNaans, Kulchasand Parathas, give your taste buds the flavour of North India.
South Indian
Indulge in the abundant varieties of Dosas and Idlis, and taste the heavenly flavour of piping hot sambar, and the tangy taste of tamarind in chutneys. Experience ChickenChettinad as your main course in the South Indian cuisine. It's a one of a kind experience.
Chinese
Favourite cuisine of many, try Burnt Garlic Noodles or Spaghetti and Penne Pasta. You can give a twist by opting for the Thai option. Try Thai fried rice, NasiGoreng rice, Pad Thai Noodles, Thai Bam Noodles with the delectable Thai Red and Green Curry.
Maharashtrian
What better than go in for an authentic MaharashtrianThali?  Do not miss out on Veg Kolhapuri, or Veg Maratha or if you're a non vegetarian, go for Chicken Kolhapuri .  Definitely do try the variety that the Maharashtrian cuisine provides.
Desserts
Keep the typical jalebi and GulabJamun aside, and instead try the enchanting Moong Dal Halwa, Dry Fruit Phirnee,  ShahiTukda and GajarHalwa. What better than to end the meal on a sweet note!
So, what are you waiting for! The beautiful monsoon calls you to unwind and rejuvenate at the Wildernest Hilltop Resort!